An Email is a CMC that stands for Computer-Mediated communication. Emails have become one of the fastest and most economical forms of communication. In this article, we are going to learn about email, its history, advantages, and disadvantages.
What is Email?
Email stands for electronic mail. It is used to send and receive computer-stored messages via the Internet.
Emails are generally encoded in American Standard Code for Information Interchange (ASCII).

Generally, an email is a message that may contain text, files, images, or other attachments sent through the computer network to an individual or group of individuals.


History of Email
The email services are far older than the ARPANET and the internet. Email development started in the early 1960 when users were able to share messages with other users of the same computer. In 1971, Ray Tomlinson was the first to send mail between two computer systems of ARPANET by adding a program CPYNET he used the '@' sign to link the user and hostname as a part of its addressing system. 
Email uses multiple protocols within the TCP/IP suite. For example, the most popular server SMTP protocol is used to send emails whereas various other protocols like POP3 or IMAP are used to retrieve messages from the mail server. With the dawn of web browsers in the mid-90s use of email extended to the rest of the public.


Structure of Email
An email consists of three main components –
Message Envelope – It represents email electronic format and is hidden from the users.
Message Header – The header includes the sender and recipient address.
Message body – It contains useful data for the recipient.


Working of Email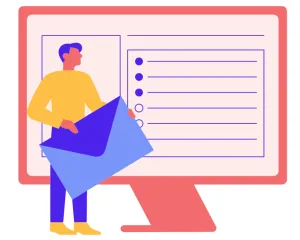 Every domain that is registered on the internet comprises an email server that handles all email addresses for that domain. The name followed by the '@' domain is the name of the domain.

Thus, any email may be delivered to a user by resolving the IP address of the domain over the internet using DNS systems. Then transferring the email to the recipient at that domain using standard SMTP.

Each email system should contain an array of components that make the system cohesive and allow it to perform its many duties.
Mail User Agent (MUA) – These are offline or web-based clients like Yahoo, Google, or Outlook that allow users to read, create, and send emails.
Mail Transport Agent (MTA) – It's the software that accepts the mail from the MUA and performs a routing function till the mail reaches its destination.
Mail Delivery Agent (MDA) – It performs various functions like filtering spam emails, virus scanning, etc. MDA is the one that generates failure messages in case of any errors.
Mail Access Agent (MAA) – MAA is used to store the mail on server harddisks when the user is offline. These emails are stored on remote servers like yahoo mail, outlook, etc.
Mail Submission Agent (MSA) – It acts as an additional layer of filter to facilitate the MDA. Nowadays, almost 90% of emails sent to various users are spam and MSA plays a quite important role in filtering them out.


Types of Emails
Onboarding emails – This is an email that a user receives immediately after registering. These emails are sent to buyers to familiarize and educate them on using a product. It also contains details on the journey in the new organization.


Newsletter emails – The newsletter is the most common type of email which is regularly sent to all mailing list subscribers whether daily, weekly, or monthly. These emails often contain links from the blog or selected content that has recently been published.

Typically, newsletter emails are sent on a consistent schedule and provide businesses with the ability to deliver important information to their customers through a single source.


Promotional emails – These offer some sort of offer to buyers, like a percentage off on the purchase price, a month of free service, or discounted rates for managed services. This is the most common type of B2B email.


Plain-text Emails – Plain-text emails contain only plain text similar to other text messaging services. They do not include images, videos, documents, graphics, or attachments. These emails are also used to send random chats like other text messaging services.


Uses of E-mail
Can be used to communicate within the organization or personally.
It provides flexibility in communication.
It is a professional way to communicate.
These can also be used as a newsletter to send advertisements, promotions, and various other content.


Advantages of Email
Easy and Fast – Composing an email is very simple and one of the fastest ways to communicate. We can send an email in a minute by just clicking the mouse. It has minimal latency and can be traded quickly.
Cost-effective – Email is a very convenient service for communicating with others, as several email services are free to individuals and organizations.
Mass Communication – Email can be used to communicate with a large number of people.
Environment-Friendly – The most important advantage of email is that it's paperless and there is no requirement for pages, pens, or cardboard boxes.
Global Reach – Email can remove social and geographic distance by removing status signals.
Scheduled Delivery – Users can schedule the delivery of emails and can also automate the replies to emails.
Multimedia Emails – Photos, videos, and various types of files can be shared easily with multiple people through a single email and are delivered instantly. Also, as cloud storage, it can be permanently saved in the mailbox. All details, including the time and the list of recipients who received the messages, can be saved and sorted, if necessary, by email.


Disadvantages of Email
Malicious Use – An anonymous user can send an email if he has an e-mail address. The attachment feature is the main disadvantage, hackers can send viruses via email because sometimes the spam feature is unable to classify suspicious emails.
Viruses – Email is one of the most common ways to infiltrate viruses in devices. These may contain a virus, or the virus may be in an attached document. Infected emails may come from an anonymous source or appear to be from a trusted contact. On clicking the email or attached document the virus enters the system and starts infecting it.
Time-Consuming – Responding to email is quite a cumbersome process and takes more time in comparison to various other messaging applications like Skype, Whatsapp, etc. Email is a good source to communicate brief information for professional discussion.
Lack of Personal Touch – The email lacks a personal touch. While some things are best sent as written and typed messages, some things should be conveyed verbally or handwritten in a note or letter.


Conclusion
That's all about the emails, their advantages, disadvantages, and features. Hoping that the article will help you in learning some new things and refreshing your knowledge. Thanks for reading.